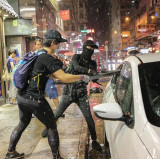 Posted on May 15th, 2020 in International Security by Tony Loughran
ZeroRisk responding to clients needs in Hong Kong during the continued pro democracy demonstrations. ZR team not only plotted on the ZR SecApp where riots were breaking out, but we were also able to update our cients and operations teams as to staff travel and home safety.
Click on more... watch the video and you'll notice how quickly a demonstration can turn nasty and how police used tear gas to disperse the crowds.